Death Is the enemy, and it's here!
Game of Thrones Season 7, Episode 6 gave us a lot of information on Night King and White Walkers. This is the time when no one can afford to let their guards down – Night King is powerful than ever. Ice Dragon is a reality. Arya and Sansa's biological connection isn't helping. And Sansa has sent Brienne, the only loyal person to her in Winterfell, to King's Landing. Phew! You just can't seem to relax in Winterfell.
Unlike rest of the episodes in the season, there weren't many surprise elements for viewers, and that's only fair being the penultimate episode of the penultimate season. It was supposed to be full of fight scenes. The beauty of this episode was that even though we knew what's about to unfold, the episode kept us glued to the screen with this marvellous execution. We were still waiting for things to happen, on the edge of our seats.
Arya-Sansa Showdown
This is when we are confused whether to sympathise with Sansa or empathise with Arya's despise for the new Lady of Winterfell who's taken the parent's chamber, wearing pretty dresses and assumably wanting to replace Jon. Besides the whole fiasco of the sisters squabbling about who's had a harder time is just getting onto our nerves. We think the sisters should have spent some quality time catching up with each other, understanding each other's struggles and talking about their future plans – but clearly the directors didn't think that was a necessity. Bran knows it all, but he is busy hanging around in the woods. Well, with one more episode left, we really don't know how this budding sister rivalry will turn out to be, or may be Jon's return will settle the things down for Stark Family. It's a reunion for god sake, let's just unite and keep the kingdom from falling. Cersie would really be happy to know about Arya-Sansa battling, and Little Finger is definitely standing behind some pole enjoying the popcorns.
Tormund, Hound and Monster Babies…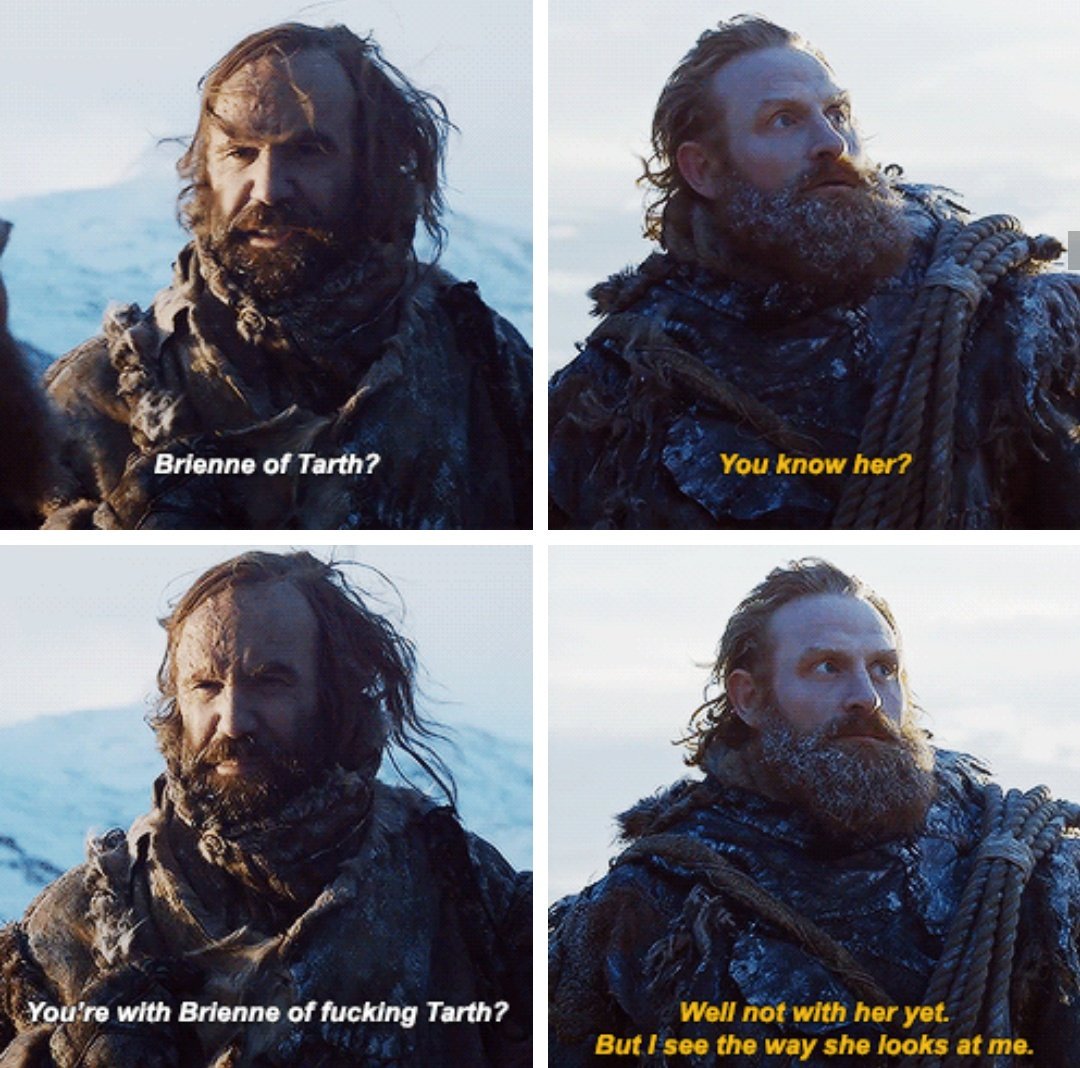 Not with each other for sure! But their little flirting has started again and what else to talk about in the chilling weather than pata-pata. Tormund wants to make babies with Brienna saying, "I want to make babies with her. Great big monsters that conquer the world." , and Hound doesn't seem to be impressed with his future plans. Jealous much? We are really pondering over the range of conversation that men can have.
The Game of Rock isn't always Entertaining
The scene opens with Jon, Ser Jorah, Gendry, The Hound and Ser Berric marching toward snowy expanse behind the wall. That's a lot of snow for a small television, and it did give us the chills. The moment you think that Jon and his little gang have accomplished the mission, the Army of the dead, in huge numbers, start marching toward them creating a "oh-what-the-fuck" moment not just for Jon, but viewers too. While they found a way to keep the army of wights at bay until Dany arrives with her dragons to rescue them, we failed to fathom why would Hound play catch-the-rock with the wights. That's not something that you do at a war to avoid boredom, you dingbat!
And then there's Dragons and Fire and Deaths!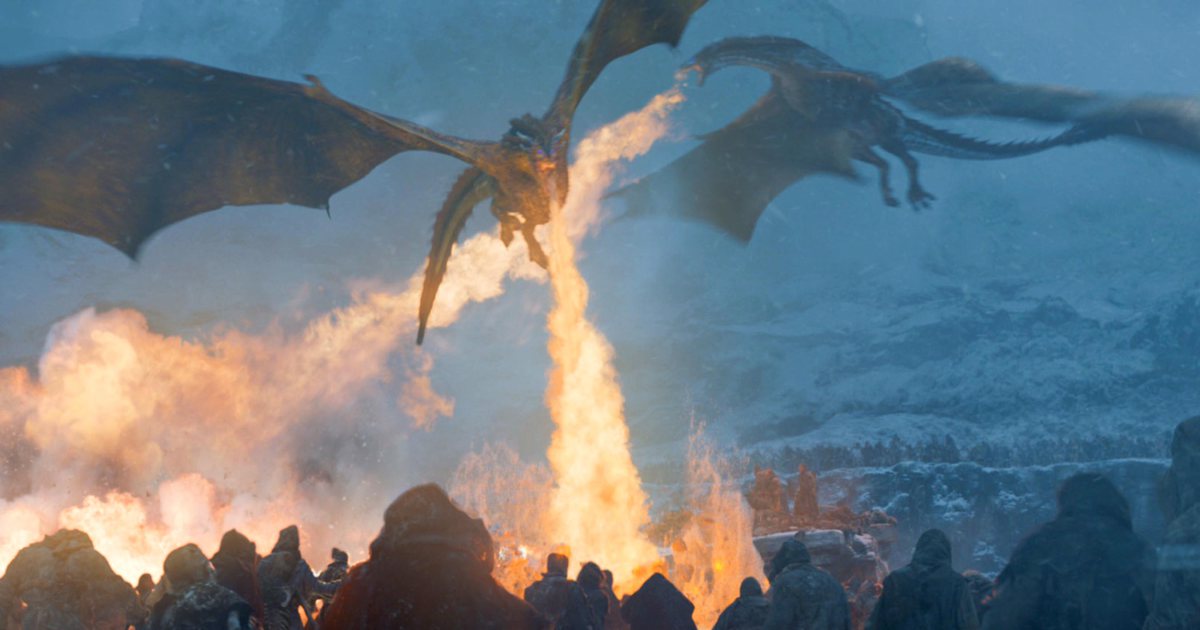 Careful guys, Dragons breathe fire on almost everyone and everything. Despite Tyrion's effort to dissuade her, she's hell-bent to fly to The Wall with all her three dragons and save Jon. Dany should have listened to Tyrin's advice, this little man is wiser than any of the great contenders of the Iron Throne and he certainly know how to play the game better. Dany is just behaving like a Targaryen and in her stubborn state of mind ended up losing one of her kids – Viserion. We are soon to see a Zombie Dragon, folks!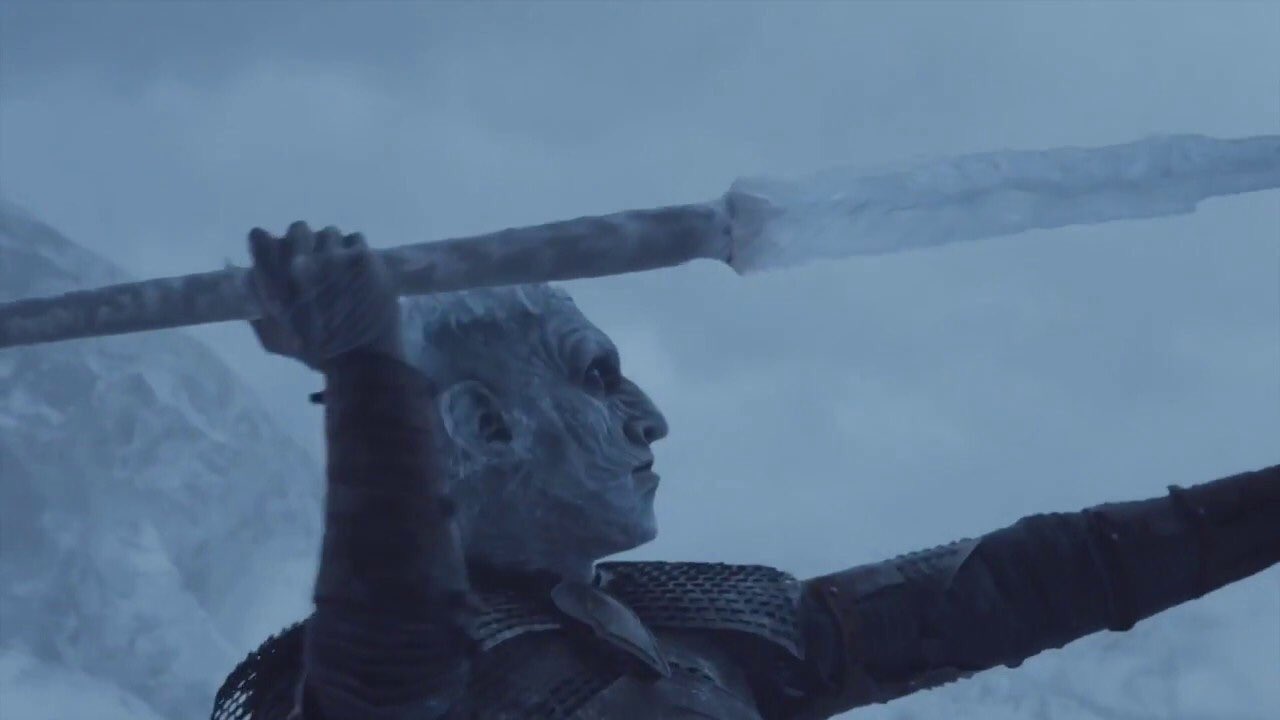 Dany safely takes Drogon and Rhaegal out of the line of ice along with the Hound, Beric Dondarrion, Jorah, and Tormund – pile on gang! Jon, being the warrior that he is, keeps fighting wights, and is nearly felled. But finds his way out thanks to the artfully placed Longclaw the Sword at the edge ofg Jon's ice hole. That's some luck! Now before he is again attacked by the unending army of the dead Uncle Benjy rides along swinging is fiery lantern and saves him. Another character loses his life saving Jon, duh!
Dany-Jon have hots for each other —– Period!

Dany looks scarred standing on the Eastwatch rampart and we're not sure whether she's sad for losing Viserion or Jon or both. But don't worry Jon Snow manages to reach the venue just seconds later. Next thing we know is that he is shirtless and finally Daenerys gets to see the wounds of the knife that he took for "his people" on this chest. It seems only to increase her affection. We already know where this would head to! No guesses for that!
Game of Thrones season 7 concludes on 27th August'2017. Check out the trailer here!